We understand that finding a good mechanic is difficult these days. You want someone who will steer you in the right direction and keep your vehicle running smoothly at all times. With decades of European Import experience and a reputation for honesty and integrity, GT Imports Automotive Repair offers dealership dependability at affordable prices. Give us a call or come in today! (951) 351-8970
Meet the
GT Imports Team

:
---
Gary Trees
– Founder, Owner, Senior Master Technician
Gary Trees is the owner of GT Imports along with his wife Ruby. Since he was a young kid Gary has always had a passion for cars. When he wasn't watching his dad race cars you could find him under a car fixing or rebuilding something. His wife lovingly refers to him as a "gear head."
For 23 years Gary worked at the Volvo dealership as an Expert Technician. There he served as Shop Foreman and trained over 20 technicians who have since become Master Technicians. He is ASE Certified as a Master Technician and Diagnostic Technician.
In April 2001 he won the Vista Award, which recognizes the Top 10 Volvo Technicians in North America. Volvo has flown him out to their headquarters in Sweden multiple times where he's gotten to tour their factories and race on their tracks. Opening a family run automotive business has always been a dream for Gary and his son Scot.
In April 2007 that family dream came true when GT Imports opened its doors. As an Expert Technician, Gary continues to work in the shop where he specializes in Volvo, Mercedes-Benz and Porsche. Gary thoroughly enjoys working with his family and alongside other technicians who all come together to run a smooth shop. It's his goal to bring our customers dealership quality work without the dealership prices.
In his spare time, he enjoys taking his Jeep out 4x-ing in the mountains and watching football. Next time you're at the shop, check out Gary's cherry red 1971 Corvette that he's rebuilding with his grandsons.
---
Scot Trees
– General Manager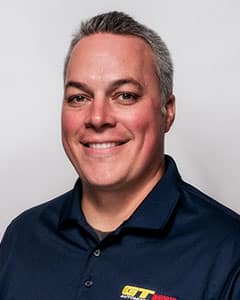 Scot works as our General Manager. He's been in the professional automotive industry for 21 years. You can find him working in the shop, training technicians, and chatting with customers, many who have become long time friends.
Growing up working on cars in the garage with his dad gave Scot a love for cars at an early age. He and his dad had many conversations in that garage about opening their own auto repair shop together one day. At 14 he and his dad started restoring what would eventually be his first truck.
As soon as he graduated high school he got his first job working at a Toyota dealership. Simultaneously he enrolled in Riverside Community College's Toyota T-10 program where he was certified as a Toyota / Honda factory trained technician. He is certified as an ASE Master Technician and Diagnostic Technician. He moved on to working at a Honda Dealership where he became a Platinum Level Technician.
For the last 10 years he has continued to take multiple certified dealer technician courses to make BMW, Mini and Porsche (or "and other German makes and models) his main focus.
In 2007 he was just as excited as his dad when their dream of opening up a family shop finally happened. Working alongside his family and helping running GT Imports has literally been a dream come true for Scot and he continues ongoing education to keep up to date with all the latest models and newest technology.
Like any true lover of cars, even when Scot's not at work his hobby has been building and fabricating several off road vehicles that he takes out 4x-ing in the mountains. When he's not running the shop or building cars, Scot loves brewing craft beer, camping, playing guitar and spending time with his family.
---
Ruby Trees
– Co-Owner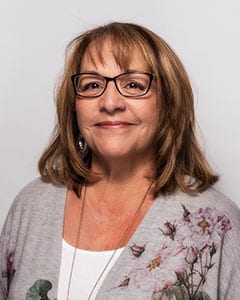 Ruby is part Owner of GT Imports. She is the master multitasker as she takes on many roles in the shop including HR, payroll, safety etc. She takes care of the countless behind the scenes necessities like keeping our lights on, our books in order and making sure all our technicians have something cold to drink during those sizzling summer days.
While the technicians keep the cars running, Ruby keeps the shop running. Without her we couldn't do our jobs or get paid.
You will always find Ruby with a big smile and a positive attitude. She wears many hats around here but Ruby's favorite thing about working at GT Imports is spending time chatting with customers. Sometimes we even find Ruby and Gary sneaking off to a long lunch with our customers.
Ruby enjoys traveling all over the world with her husband, flying kites and cooking but she lives for spending time with her grandkids. She often comes home to find her grandkids swimming in her pool and snacking on her latest baked treat.
---
Laura Trees
– Service Consultant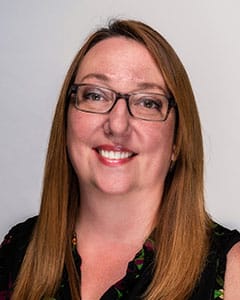 Laura works in the front office as our Service Consultant. She's one of the friendly faces you'll see when you come to GT Imports. She always has a smile and is ready to help you when your car needs servicing.
Several years ago as the family business grew, she decided to join her husband Scot and the rest of the family working at GT Imports.
Over the years Laura has taken on many office duties but she's made her focus being a Service Consultant. Several times a year she attends Service Consultant Training classes and continues her ongoing training.
Her favorite way to relax is cooking, book clubs nights with her friends and camping with her husband and three kids.
---
John
– Service Manager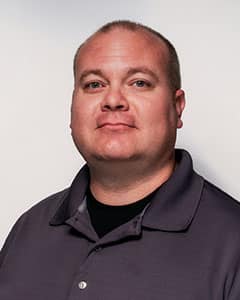 John is our Service Manager. He's one of the first faces you'll see when you come in to GT Imports. John has been interested in vehicles and motorcycles since he was 15 years old. During his teenage years John started restoring and building his first classic car, a 1977 Chevy Nova.
While he was in high school he took Auto Shop classes and loved it. After graduating from high school, his passion for working on cars and helping people with their cars quickly landed him jobs at auto repair shops in Southern California.
John is very knowledgeable when it comes to all aspects of cars. He's very personable and communicates extremely well with our customers and staff. When he's not at the shop he enjoys spending time with his family, working on his classic cars, fishing and camping.
---
Chris Smith
– Shop Foreman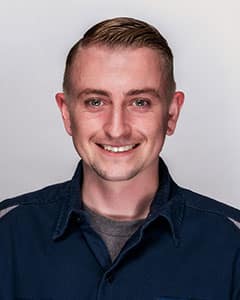 Chris is our Shop Foreman. His love of cars started when his older brother decided to rebuild a 1973 Chevy Nova and roped Chris and their dad into helping him. The project that took a few years quickly became a passion for Chris. When his brother later got a different car, Chris was happy to take the Nova on as his first car.
After graduating high school, Chris attended Riverside Community College where he obtained his Associate's Degree in Automotive Mechanical, Automotive Electrical and Social and Behavioral Science.
In 2012 we added Chris to our team of technicians at GT Imports. Over the years Chris has taken several BMW, Mini, and Mercedes-Benz Certified Dealer Technician training classes. He has over 8 ASE Certifications and is a licensed Smog Inspector and Repair Inspector.
In his free time, Chris loves to go indoor rock climbing and relaxing with family and friends. He runs our shop's Fantasy Football League and recently he started training to get his Pilot's License.
---
Henry
– Technician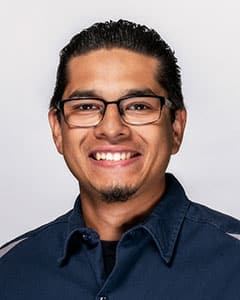 Henry is one of our shop technicians. He grew up fascinated with watching his Uncle work on cars. Around 13 he finally started helping his Uncle work on cars and hasn't stopped working on cars since.
It was an easy decision for Henry to become an Automotive Technician so after graduating high school he enrolled in the Automotive Technology Program at UTI. While attending UTI he got his first job working at an auto repair shop.
Shortly after graduating with his Automotive Degree from UTI, Henry joined the team at GT Imports. He has been in the professional automotive industry for 5 years and continues his ongoing automotive education so that he's always up to date with the latest technology. His focus is VW & Audi. The complex nature of those car brands can often times be a challenge that Henry loves working out.
As a new dad he loves spending time with his son and family. Year round you can find Henry and his family at the lake, camping or snowboarding.
---
Leo
– Technician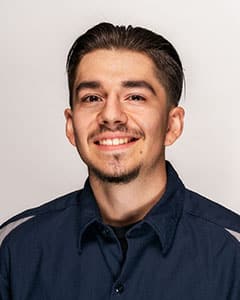 Leo is the newest member of our team. Growing up his parents struggled with their cars constantly breaking down and as we all know, repairs aren't always cheap. Wanting to help his family in any way he could Leo decided to learn how to fix the cars himself.
Countless hours were spent taking cars apart and putting them back together to figure out how everything worked. This ultimately led to Leo's desire to make this a career for himself.
After graduating high school he attended Riverside Community College where he was a pitcher for their baseball team. A couple years later he attended UTI's Automotive Technology Program where he obtained an Automotive Degree.
Before joining our team Leo previously worked for two other shops. While we initially hired him to help with light duty jobs, he jumped right in and has proved himself very capable of handling not just the smaller jobs but even the complex problems (diagnosing and repairs) that cars can bring. Leo has already proved to be a great addition to our team of technicians here at GT Imports.
Leo is a new dad to a beautiful baby girl and when he's not spending time trying to catch up on sleep, he enjoys pitching in a game of baseball on his Sunday league team, the Calimesa Angels.
---
Shantel
– Office Support Staff

As the youngest daughter of Gary and Ruby, Shantel was happy to join the family at GT Imports in 2009. Being around auto repair is nothing new to her. Growing up she spent many hours hanging out with her dad in their garage while he repaired cars. When she was a teenager he bought a Jeep that the two of them restored together and it eventually became the car she learned to drive in.
She works part time as Office Support Staff helping with researching, purchasing, keeping our all our invoicing and bookkeeping straight and making emergency part runs. Her eye for detail and need to constantly organize things in the most efficient way possible helps keep the office running smoothly.
When she's not working at GT Imports she works part time at an elementary school helping children learn to read. Some of her favorite things are taking naps, watching football with her two boys and beating all the guys in the shop Fantasy Football League.
---
Jacob
– Support Staff

Jacob is the fourth generation family member to work here at GT Imports. He works part time as Support Staff.
Having someone 6' 3" comes in quite handy for all sorts of jobs around here like changing light bulbs. Helping his grandpa rebuild the 1971 Corvette has been a fun project and added car repair experience for him.
Once he graduates high school his goal is to become a Certified Technician so he can work in the shop alongside his dad and grandpa.
When he's not doing school work or working at the shop, he's out skateboarding or perfecting his skills at playing the drums.
---