BMW's are designed to be a trendy, yet safe driving vehicle. Having said that, if proper scheduled maintenance routines are not followed, the BMW, like any other vehicle, can become dangerous to drive. Because the BMW is designed and manufactured to maximize safety and reliability, the creators have now installed what is known as a "service interval light system", as well as a "service countdown system" to let drivers know when it is time to take their vehicle in for scheduled maintenance. The interval system determines when these checks are needed by combining suggested BMW maintenance routines with your personal driving habits.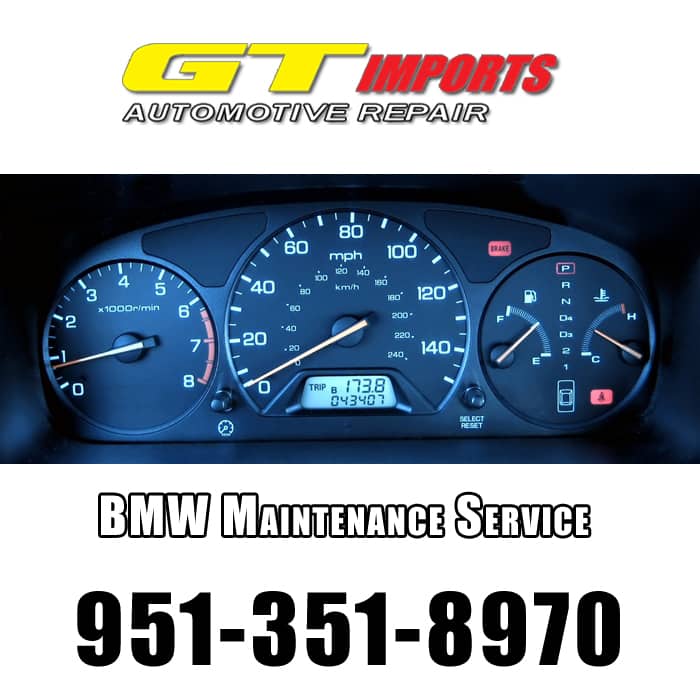 About the Service Interval Light System
On the service indicator, you will find the following; 5 green lights, 1 yellow light, and 1 red light. On your instrument panel you will also find 2 inscriptions saying "oil service" and "inspection".
When you turn on your vehicle, you will notice all 5 green lights lit up. As you continue to drive your BMW, these lights will turn off one by one. How long it takes for these lights to turn off will depend on how often you drive your vehicle, as well as your driving habits. Once you are down to only one lit green light, it is time that you start planning for your next service. If you do not take your vehicle in at this time, your green light will eventually turn off and a yellow one will turn on. With this yellow light, one of the two inscriptions will also turn on (inspection or oil service), indicating that it is now time to take your vehicle in for maintenance service. If you continue to delay servicing, your red light will eventually turn on, letting you know that service is overdue. In such a case, you will want to take your vehicle in for servicing immediately.
Well, what do you feel concerning that so far? No inquiry, we are simply obtaining began with everything should be understood regarding certified BMW Service in Riverside, CA. Yes, it is true that a lot of find this and various other related subjects to be of great value.
You will not ever before truly understand about any sort of one facet due to the fact that there are a bunch of differed scenarios. Attempt reviewing your very own distinct guidelines which will help you additionally fine-tune what may be required.
The ending conversation will solidify what we have disclosed to you approximately this point.
About the Service Countdown System
The Service Countdown System is an alternative display that you will find in your instrument panel. This system does not display a series of lights, but instead displays how many miles are left before you will require your next service. When the countdown is complete, the display will light up which type of service you need (Oil service or inspection service).
About BMW Scheduled Maintenance Intervals
There are 3 main service groups included within the BMW service intervals;
• Oil servicing – includes oil change, filter change, and preventative maintenance services
• Inspection I – includes major vehicle maintenance as specified in the BMW service booklet
• Inspection II – includes other major vehicle maintenance as specified in the BMW service booklet
If you aren't familiar with vehicles, keeping up with a regular maintenance routine can be difficult. Luckily, BMW helps to make it a little simpler. With the help of the BMW scheduled maintenance Interval light system and the BMW Service Countdown System, it is easy to tell when you need to take your vehicle in for servicing, as well as what type of servicing your vehicle requires. Following the recommendations of these systems is essential, directly influencing the safety of your drive.