If you notice that your Mercedes is taking a long time to stop, or if you start to hear strange noises when you hit the brake pedal, then it's time to take your car in for a brake inspection.  Because the brake system is so vital to road safety, any problems you experience should be checked out early. Mercedes brake services will go a long way in improving the performance of your vehicle.
It is important to make certain that the service center you opt to take your car has the necessary Mercedes repair diagnostic equipment.  The equipment will assist them in making an accurate determination of the problem you are having with the brakes.  Be sure to take your Mercedes to qualified, experienced technicians that can do a detailed brake system evaluation, and have you back on the road in no time.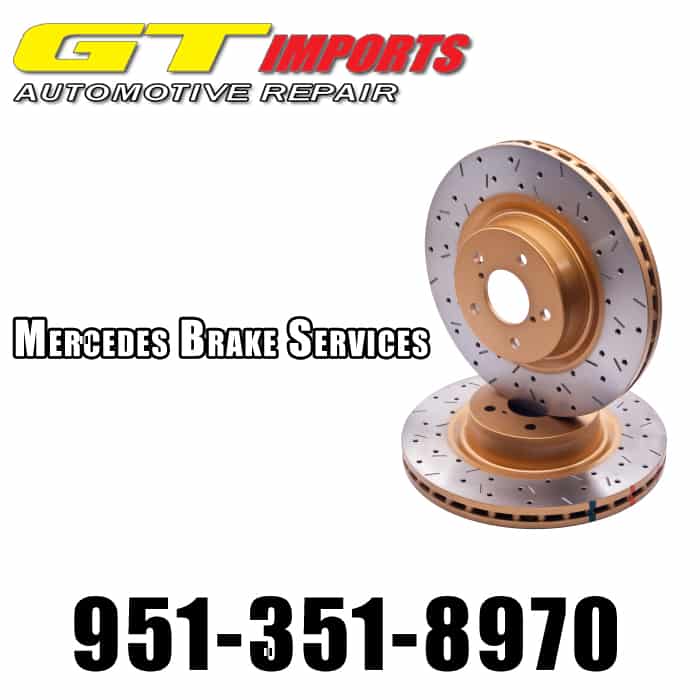 The Mercedes is designed with a wide-ranging maintenance system that is designed to help you take care of your car.  In order to make brake servicing easier for you, the car is equipped with a brake wear indicator, which usually comes on when brake repairs are necessary. The timing of repairs is determined by the conditions under which you drive, as well as the number of miles driven.
Brake servicing involves checking the various components of the braking system to ascertain the extent of the degradation of the hardware.  This will involve the removal of all 4 wheels of the motor vehicle, in order to do a complete inspection of the hydraulics and other component parts, as well as the brake fluid.
The hydraulic parts include the wheel cylinders, calipers, and hoses.  If any of these components fail, then extensive repairs will be needed.Parts will be checked to determine if they need to be replaced or adjusted.  Some of the key brake components include the pads, rotors, and the master cylinder.  The pads are checked for wear and replaced as needed.  If the rotors show signs of uneven wear, or if they have deep grooves, chips, warping, scratches, or ridges, then they will also need to be replaced.
A brake fluid flush may also be necessary if the fluid has become contaminated.  Contamination occurs naturally over time,as debris from other parts of the brake system may find its way into the brake fluid reservoir.  When fluid is contaminated, it is less efficient, which means that the fluid is more likely to boil and overheat, and this can result in brake failure.  Therefore if fluid is dirty, it needs to be flushed from the system, and replaced with clean fluid.  It is always recommended that you use the brake fluid recommended for your car.
We consider the above thoughts and tips must be taken into account in any conversation on Riverside Mercedes-Benz repair. There is a remarkable amount you truly should take the time to know about. It is difficult to determine all the various means by which they can serve you. It really should not need to be said that you must conduct closer examination of all relevant points. Continue reading because you do not want to miss these critical knowledge items.
Mercedes brake services also includes checking the brake lines for any sign of leaks.  Leaking brake fluid will also cause brake failure, as leaks cause the system to lose pressure, making it more difficult to stop the car. You can contact GT Imports Automotive Repair at 951-351-8970 for a Mercedes brake services.  We are located at 10180 Hole Avenue, Riverside, CA 92503.
See our post about Mercedes Clutch Repair in Riverside, CA.